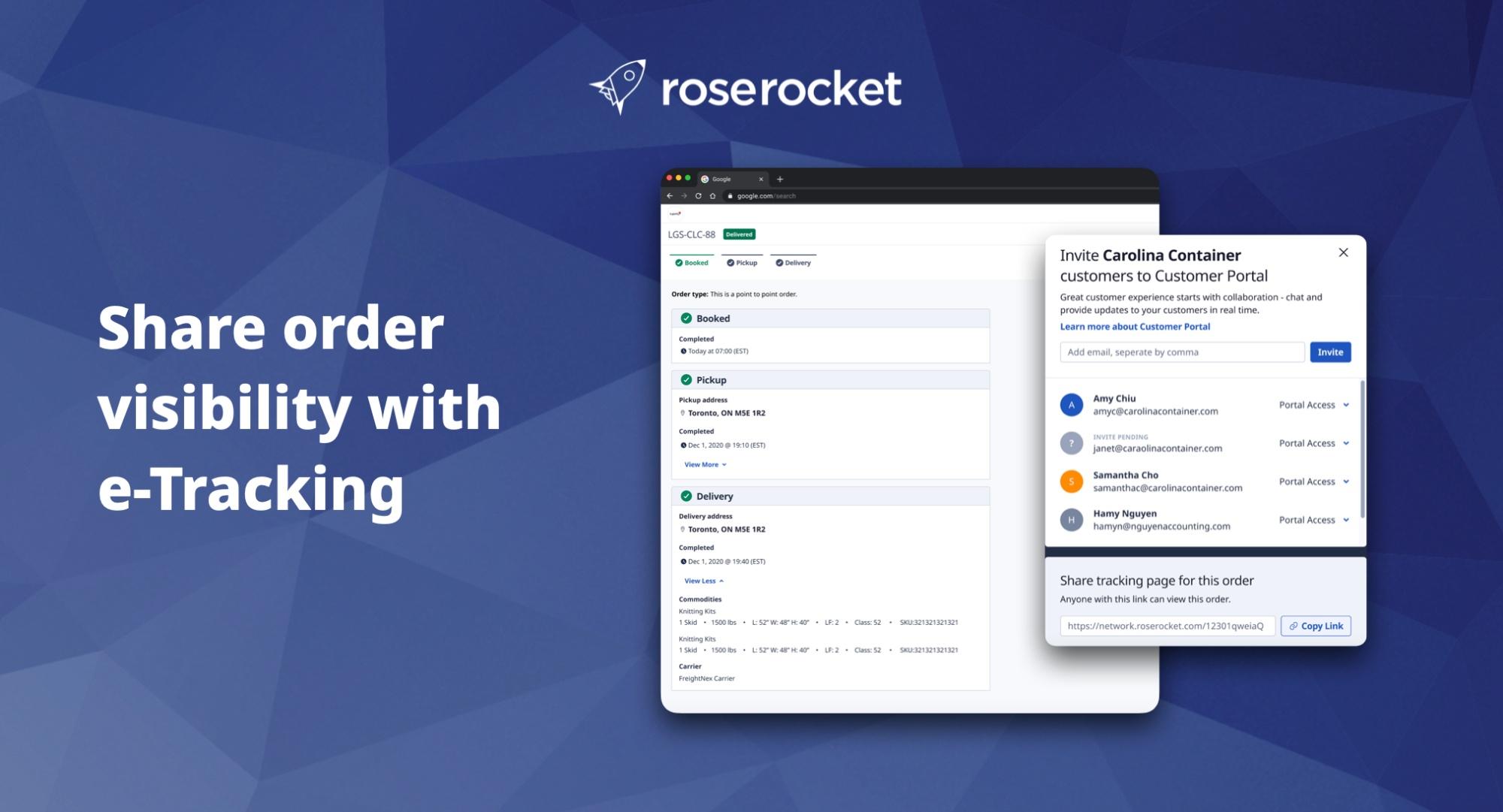 Introducing e-Tracking, a simple way to share live order updates with your customers as they move from booked to completed on Rose Rocket. Using the new e-Tracking page, any customer can see status updates as they are entered in the TMS, giving them real-time visibility into orders.
It's simple. Rose Rocket creates a public link for the order and all you have to do is share it. By offering more ways to share visibility on orders, you can provide better service to your customers.
How it Works
In an Order, you will now see a 'Share & Invite' button in the top right corner.
1. Create and share an e-Tracking Link
Generate an e-Tracking link for the order and share it with your customer. e-Tracking links will expire after 45 days or when the order has been completed or deleted in Rose Rocket.
Link Expiry
By default, the e-tracking link will expire 45 days after it's created. When an order is updated to Delivered, Invoiced, Cancelled, or a Claim is created, the link expiry will reset to 45 days.
2. Invite to Customer Portal
e-Tracking links let you selectively share order status with your customers. If you find yourself always sharing links with your customer, add them to the Customer Portal and they'll have access to all their orders without any additional effort from your team.
Use the list to see which users already have access to the order and add or remove Portal access for a customer.
e-Tracking lets your customer see orders as it moves through Booked, In-Transit, Delivered, Invoiced or Cancelled status in Rose Rocket. To ensure no private information is revealed, only the stop city, state, zipcode and commodity details are shown and updated with the order.
Availability
This is available in each Rose Rocket instance at no extra cost.
Available in Production: Tuesday, June 8th, 2021