What if your TMS could automatically notify you as soon as something needs your attention? Like getting an email if you have any orders at risk, or getting a message when a customer is placing less-than-normal volume?
Rose Rocket allows you to set up custom notifications based on your business criteria. This means you can define what warrants your attention, and choose how you want to be notified.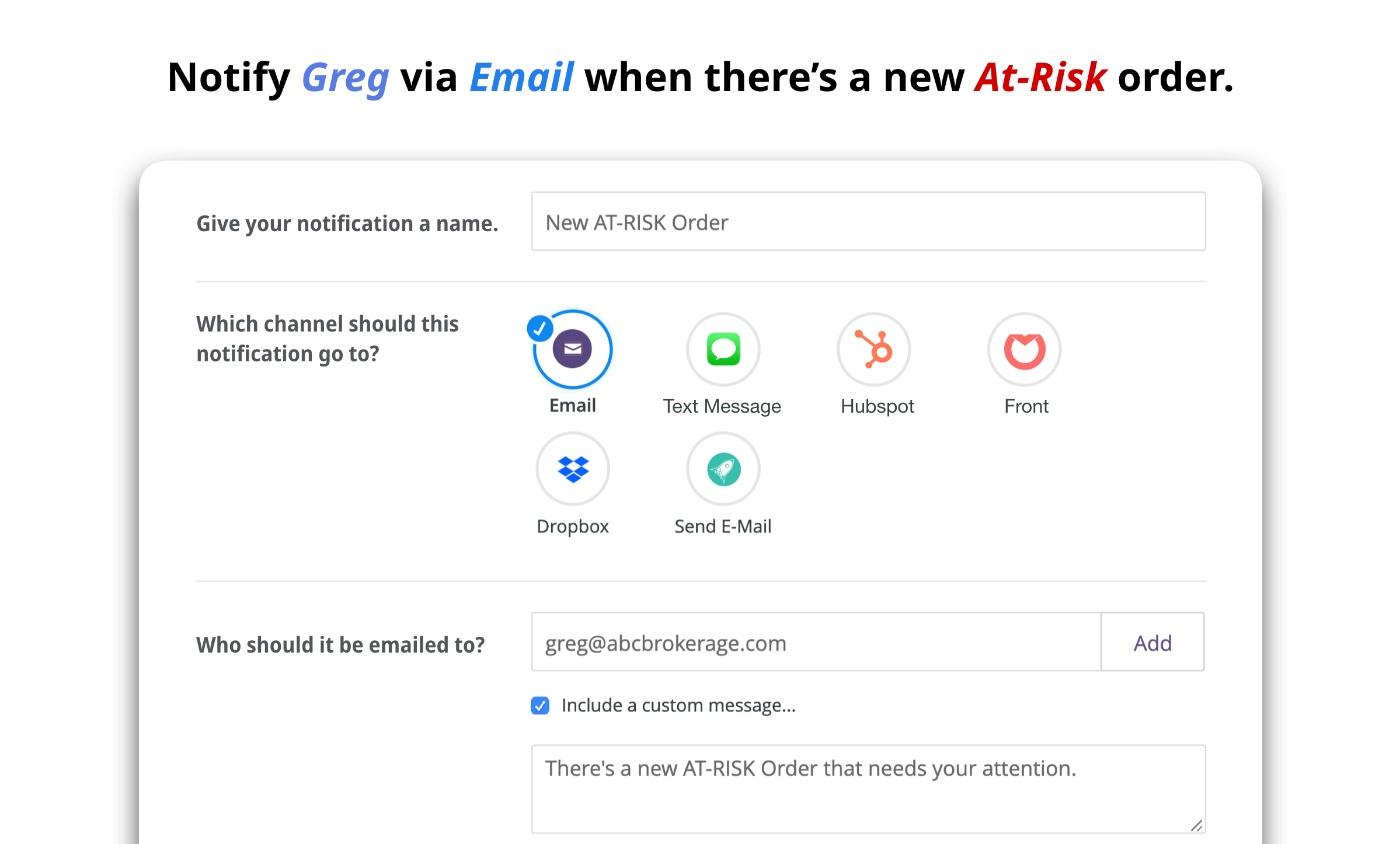 Here are examples of Real-Time Notifications:
At-Risk Pickup or Delivery: Get notified if you are going to miss a pickup, or if a delivery will be late.
Hot Orders: Get notified when important orders warrant your attention. You can first specify what type of orders would be considered a "hot" order, like if an order is above a certain dollar threshold, or if it is for a particularly important customer (new customer, best customer). You can set up to get notified when your number of hot orders exceeds a specified amount, or even if a hot order is now at risk for a late pickup or delivery.
At-Risk Customers: Monitor drastic changes to your customer order volume or customer experience and get alerted about any At-Risk Customers before they drop off.
Claims: Get ahead of your claims so you're not surprised at month's end. If a claim entered is above a certain amount, or a certain number of claims is exceeded for a customer in a time period (i.e. more than 1 a month), you can be notified right away so you can investigate them.
Accounts Receivables: Managing a healthy accounts receivable is essential to maintaining a positive cash flow. Get notified immediately if a customer's outstanding receivables exceed a certain amount or a certain number for a time period.
Get notified where you want:
Some companies live by their emails, where others prefer the phone. With access to open APIs, and Webhooks, you can get notified of these alerts wherever you want.
Here are some of the many channels we support:
Email: Get notified directly in your email.
Text Message: Have your TMS send you a text when events warrant your attention.
CRM: Have your notifications become events in your preferred CRM like Hubspot, Salesforce, and more.
Customer Service: Have notifications go directly into your customer service software so your agents can act on it immediately.
DropBox: Have a report go into your shared drives to stay organized.
+ More! Have a channel we haven't talked about? Let us know!
How to get it:
All Advanced Business Intelligence features can be added on to an existing Rose Rocket plan. Please reach out to subscriptions@roserocket.com for more information.
If you do not currently have a Rose Rocket plan, please book a demo to learn more.
Read More