Unless you are operating only within one country, you are likely working with multiple currencies within your business. To truly understand and optimize your profitability, it is imperative to bring your payables and receivables back to your home currency.
Rose Rocket can now better support multi-currency reporting for CAD and USD, with more currencies being supported in the future.
This new feature is important for any company that operates across borders, as it will help improve profitability analysis, allow for more seamless integration with your accounting software, and enable you to better adjust your prices over time.
How to Enable Multi-Currency Support:
To enable multi-currency support for your company, you need to have an Admin level account. Here's what you need to do:
1. Confirm your Home Currency:
Your company's Home Currency is the currency in which you operate in.
If your business is American, you are operating in USD, and Canadian businesses in CAD.
To make sure you have the right Home Currency, go to "Settings". In the first window named "Global Settings" you can set your home currency.
***Please note that setting a Home Currency is a permanent change to your account, as it impacts all of your accounting and reporting efforts.***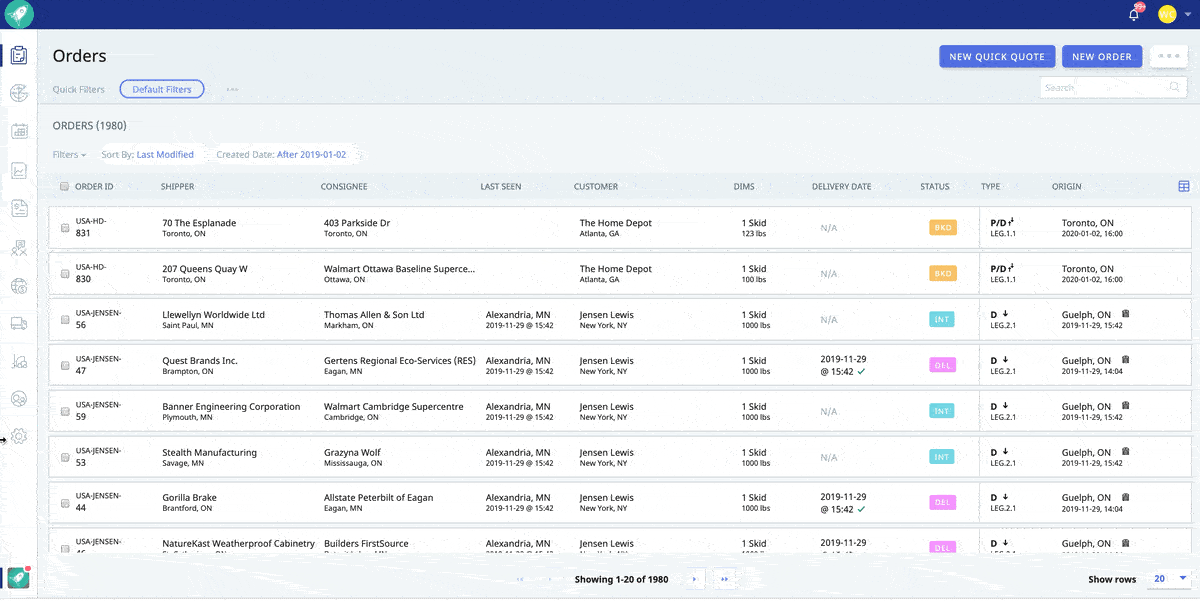 2. Set up exchange rates:
Once you have set up your Home Currency, you can add exchange rates to enable Multi-Currency Support.
Go to Settings, and scroll down to "Exchange Rates" and click on "View Exchange Rates"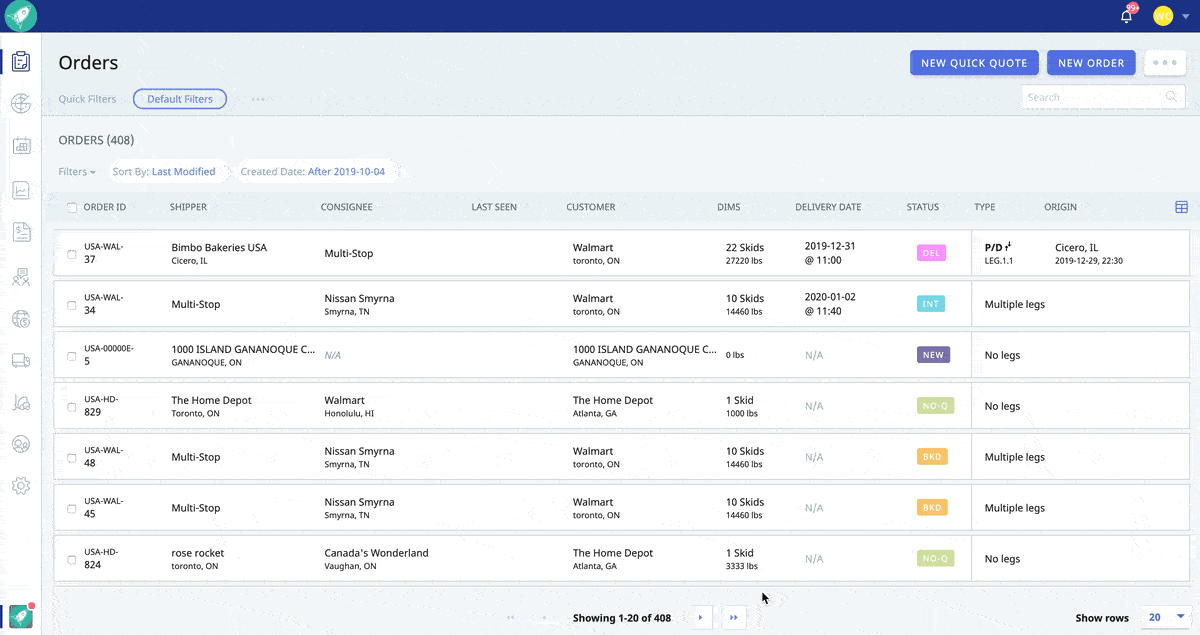 Make sure you select the appropriate year in the drop-down for the exchange rate you are about to enter.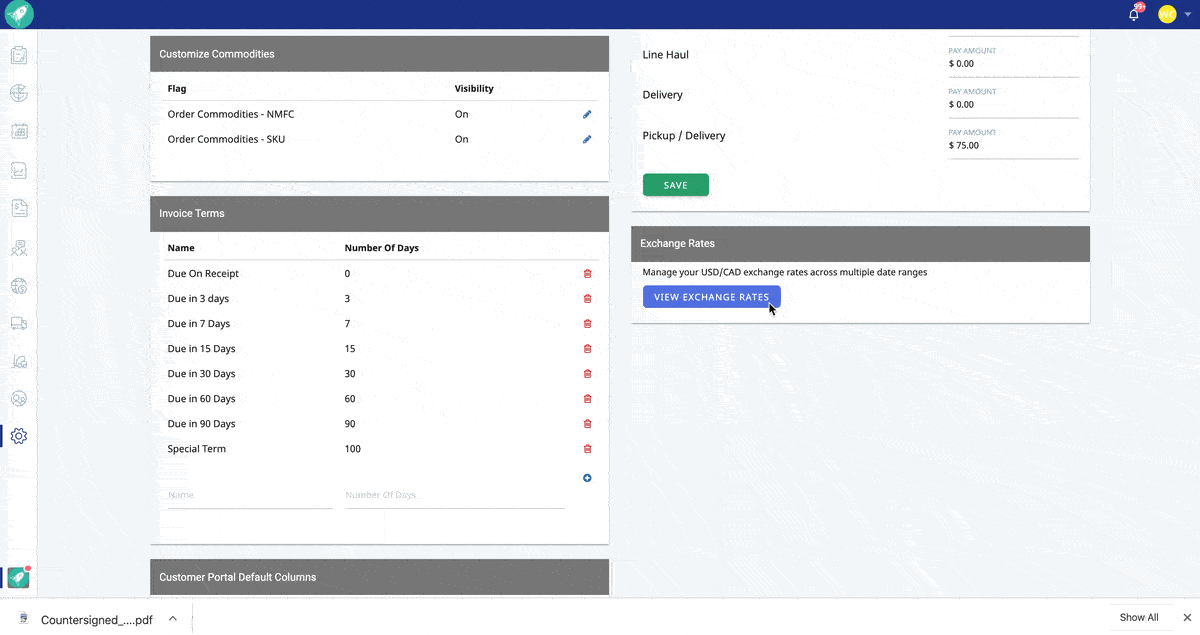 Select the date ranges in which you want the exchange rate to apply to. Then, input the rate and click the "+" sign to create the rate. Most companies will update the exchange rate weekly.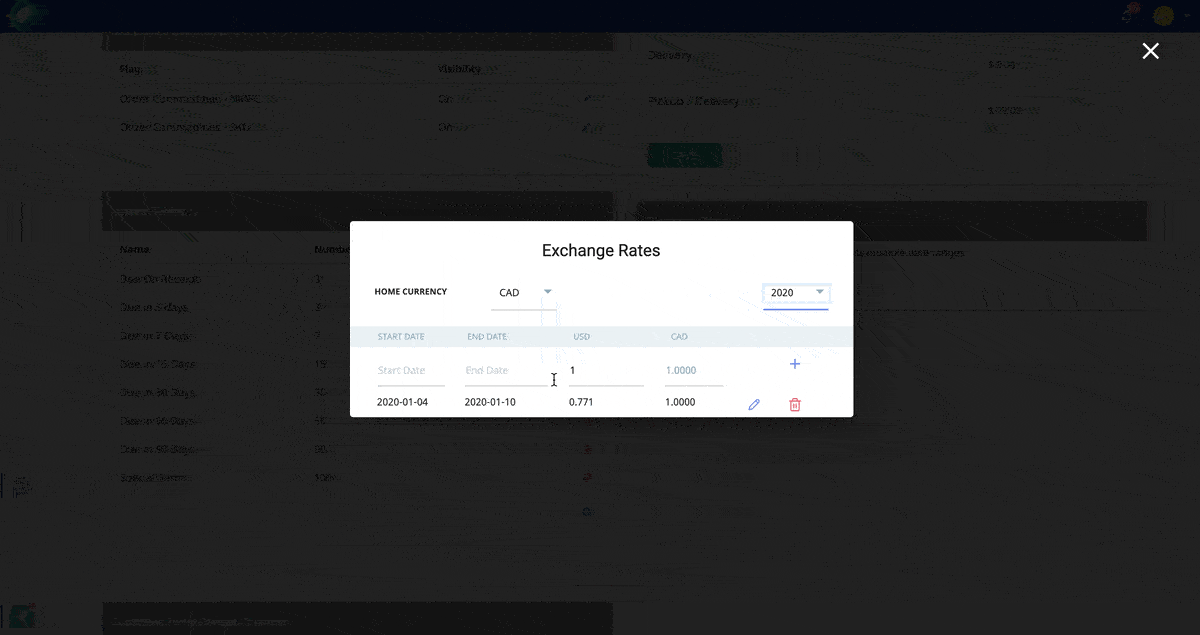 How does Multi-Currency affect your business?
When exchange rates are set, this will only impact your internal operations. Your customers will be seeing quotes, orders, manifests, bills, and invoices in the currency they operate in, so there are no changes there.
Internally, Multi-Currency Support will impact you in the following ways:
Every order, quote, manifest, bill, or invoice that is in a different currency than your Home Currency, will revert to your Home Currency for accounting and reporting purposes.
The exchange rate that is recorded internally is based on when the STAGE of the order is CONFIRMED.
For example:
Quoted vs. Booked: If you were to Quote a load to a customer during Week 1 with an exchange rate of $1.33 CAD to $1.00 USD, and it was accepted and Booked officially on Week 2 with an exchange rate of $1.30 to $1.00 USD, the load would be recorded at the exchange rate of Week 2. This number is used for your Estimated Revenue.
Booked vs. In-Transit: When your manifest has been dispatched and confirmed as being picked up, that will lock in the rate at the time of the pickup, and this rate is used for your Estimated Costs.
Bill Created vs. Bill Sent: When you create a Bill it does not update the exchange rate. When you send the Bill, it will update the exchange rate to record your Actual Costs.
Invoice Created vs. Invoice Sent: Similarly to Billing, when you create an invoice it does not update the exchange rate. Once you send the invoice, it will update the exchange rate to record your Actual Revenue.
Externally, your customers will not see a difference, as it is presented in their operating currency. This means if you quoted them at $100 USD, they will see $100 USD throughout the whole process (not accounting for any accessorials or claims that may be incurred during transit).
💡Tip!
If there is no exchange rate set for a time period, it defaults to a USD $1.00 to CAD $1.33 exchange rate (CAD $1.00 to USD $0.77). To make sure this doesn't happen, try adding a recurring calendar reminder to input your exchange rates a few days prior to the expiry date of your current exchange rate.
Availability:
This is available to every Rose Rocket user at no additional cost.
Please contact your Rose Rocket representative to have Multi-currency support enabled for your organization. Additional setup is required by someone with an Admin-level account to enable this feature.
Available in Sandbox: Thursday, January 2nd, 2020
Available in Production: Wednesday, January 8th, 2020
Read More