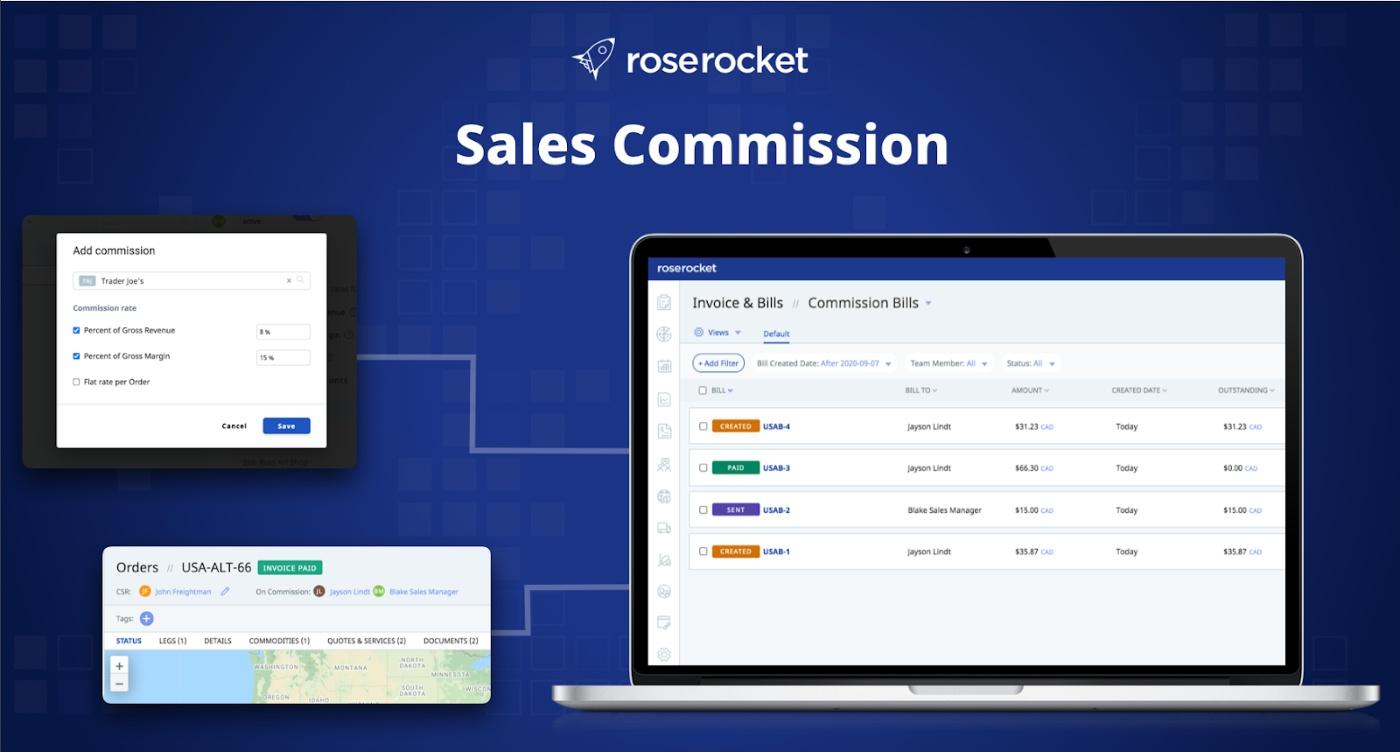 Commission structures and sales incentives can be essential to the performance of any team and the overall success of a business. To support this, we have built new Sales Commission functionality and reporting to help you track commissions so your sales force is properly rewarded for their exceptional customer service and account management.
Whether you have a dedicated sales team or manage accounts across different functions of your organization, this feature gives you the ability to manage the sales incentives for your team, right from within the TMS.
Let's get started
Where you can find it
Commission rates can be added to any user or customer profile in Rose Rocket. Manage your commission items and bills from the Invoices & Bills module in two new Commission pages.
Setting up your salesperson commission
To set up sales commission, you want to start by assigning commission rates to team members in your organization. Any of the following users can be commissioned on Rose Rocket:
Admin
Manager
Operations
CSRs
Drivers
Sales
Please note, commission cannot be applied to Shipper Portal and Partner Portal users.
Commission Rates
Commission is calculated for each user when an order is invoiced and the associated manifests have been billed. There are three types of commission rates that can be applied to a user or customer account:
Percent of gross revenue: Commission is calculated based on a set percentage of the gross revenue of an order at the time that the order was invoiced.

Percent of gross margin: Commission is calculated based on a set percentage of the gross margin of an order at the time that the order was invoiced and all associated bills were created.

Flat rate per order: Commission is calculated based on a set dollar amount for each order invoiced.
Commission rates are always calculated in home currency. One or more commission rates can be set to a user or customer profile in Rose Rocket.
User level: Set default commission rates for a team member, which will be applied to all items they are assigned to.
Customer level: Add team members to a customer profile and set the rates in which each user will be commissioned for that account.
To make it easier to assign your salespeople to customer accounts, we recommend starting at the user level to set default rates for each of your commissioned team members.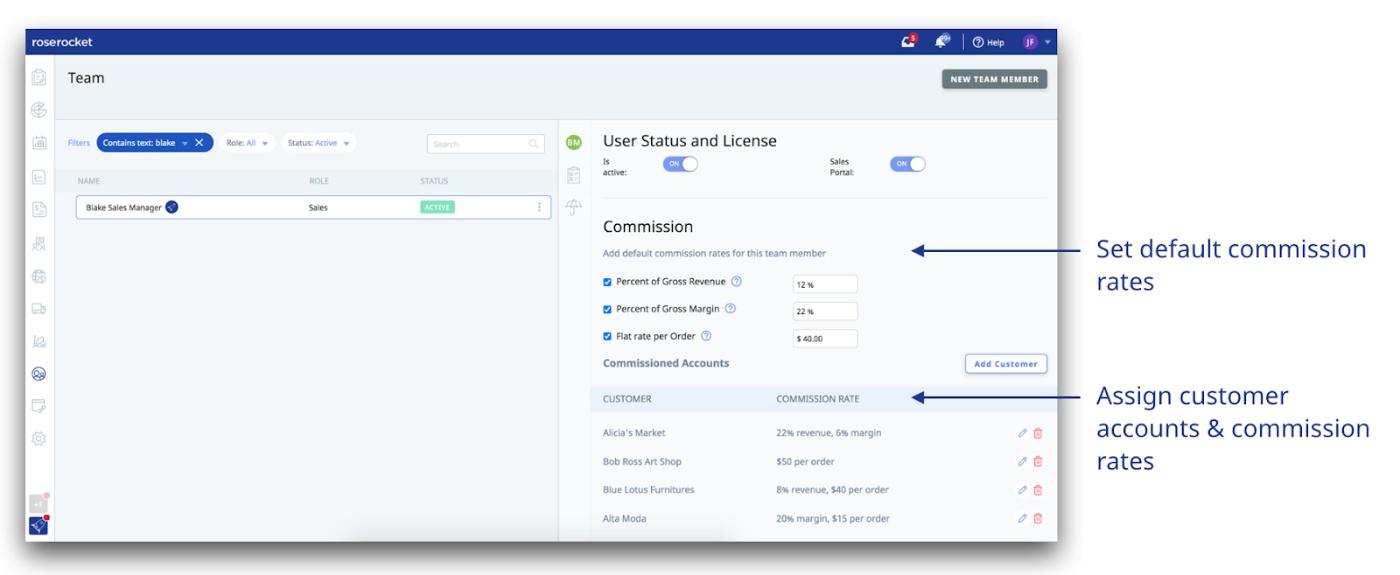 Add one or more default commission rates to a team member in Rose Rocket. Head over to the Teams page. In a user's profile, you will now see a Commission section where default commission rates can be added.
Use the checkboxes to specify the percentage or dollar amount for each commission type. When the commission is saved, the default rates are applied to commissioned items assigned to that user, which can be overwritten at any time.
User Level- Assigning customer accounts to a user
In addition to setting default commission rates, you can also assign customers to a user profile and set the commission rates for each account.
Use the "Add Customer" button to find and assign customer accounts within the user's profile. From here, you can specify the commission type and rate for each customer.
When added, the user will automatically be commissioned for orders made by the associated customers at the specified rate.
Commission rates can be edited or deleted at any point. Editing or deleting a team member's default commission rates will only affect the next commission cycle.
Customer Level- Assigning team members to a customer
Commission can also be set from the Customer profile. See all team members on commission for a specific customer and manage rates right from within a customer's profile.
In the Customers module, you will now see an "On Commission" section in each customer profile. From here, you can view and manage all salespeople who will generate commission for the customer.
When a team member is assigned as the salesperson on a customer profile, any order created by that customer will have the user associated. Users will then appear as "On Commission" in the order details for customer accounts they are assigned to.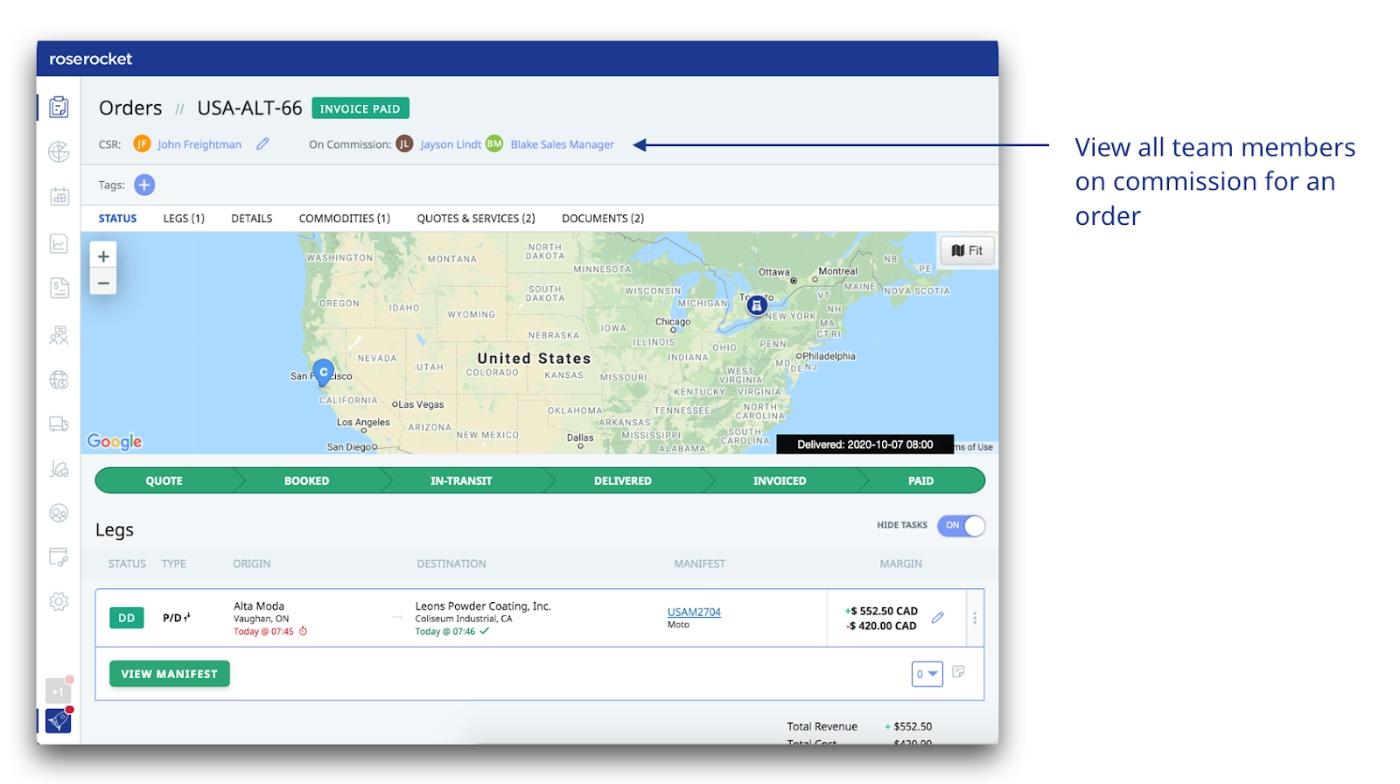 Managing Commission Items & Bills
We've added two new Commission pages to help you manage commissioned items and generate bills for your sales team.
In the Invoices & Bills module, you will now see a new Commission section with two new pages, Commission Items and Commission Bills.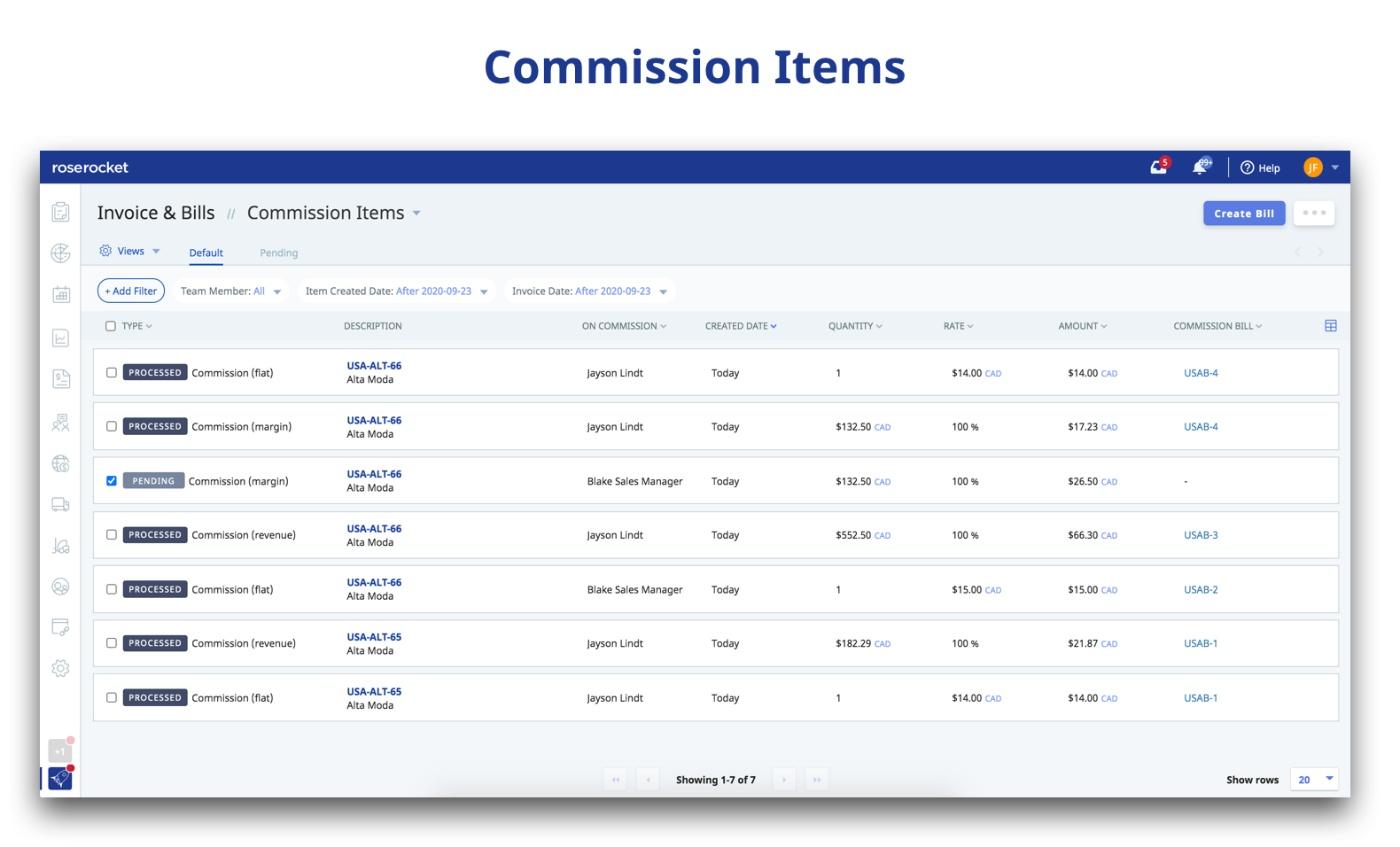 View the list of commission items broken down by rate, order, and salesperson. From this page, you are able to generate bills for each team member.
Generating a Bill
Create bills for your sales team from the Commission Items page. List items will appear in the following status' and can be actioned accordingly:
Processed Status: A bill has been generated for the line item. Navigate directly to the bill by selecting the ID in the "Commission Bill" column.
Pending Status: A bill has not been generated for the item. Use the checkboxes to select items from the list and create a new bill. The new bill ID will appear in the "Commission Bill" column.
💡 Easily see all Pending commission items by each team member by adding a Saved View to your list.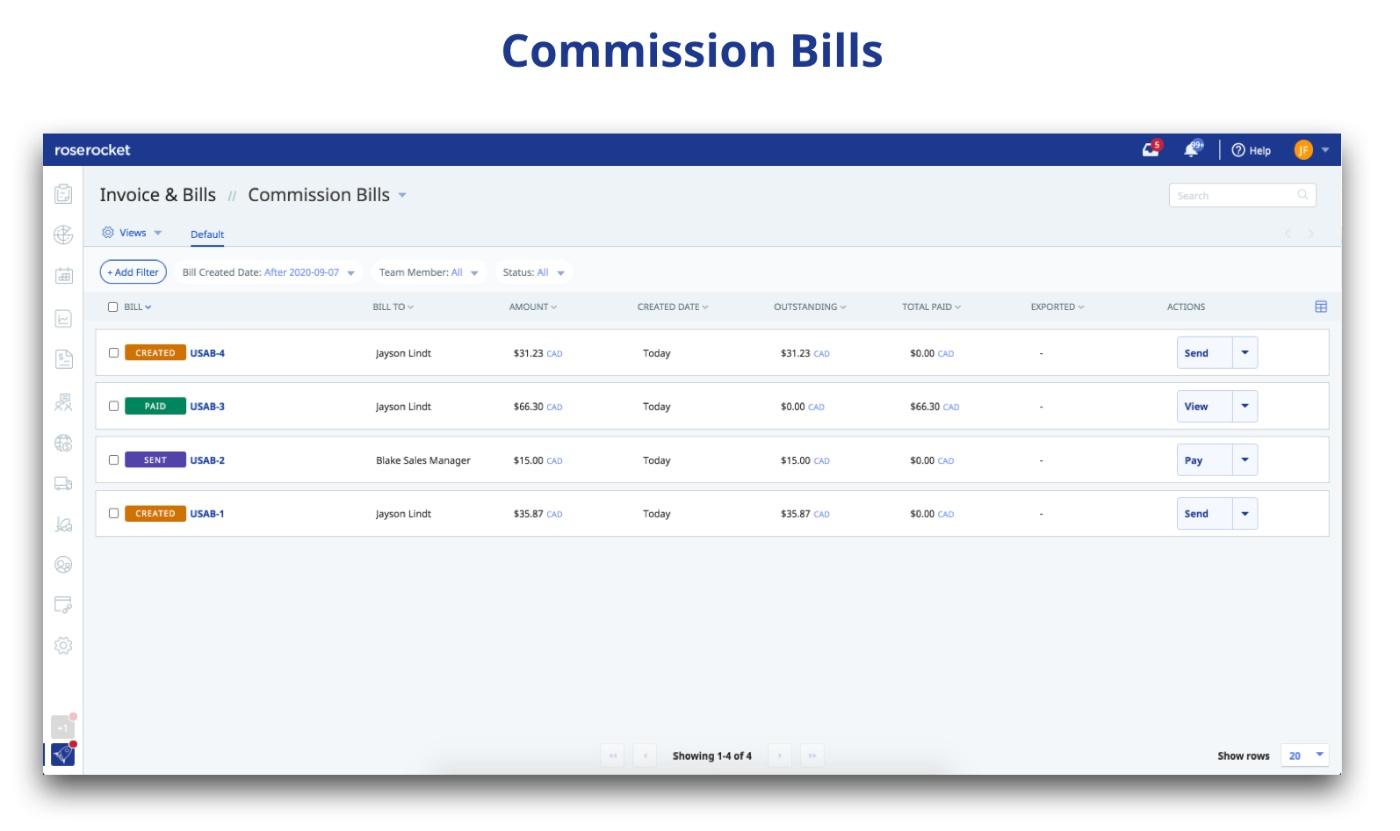 Manage all pending charges for your commissioned team members from the Commission Bills page. From here, you can see rates, deductions, and other expenses to action bills for your team. Like the Invoices page, you can view, send, and manage commission bills from the "Actions" column.
Commission Bills Actions
Pay Schedule: Pay periods can be set from within the details of a commission bill. Specify the start and end of the pay period in which your team will be paid for all of their commission items.
Edit Bills: To make adjustments to items on a bill, simply delete the item using the trash icon or add a new line item with updated details.
Export: Commission bills can be exported to QBO and Xero in a single click.
After a bill is reviewed and any adjustments have been made, it will be sent with the set pay period to the corresponding user through email.
Enhance Commission through the Rose Rocket Sales Portal
Enable your commissioned team with access to the Rose Rocket Sales Portal. This is an add-on feature that allows your Sales users the ability to view and manage all of their customers' orders from a single place.
With visibility into their orders and expected commission, your sales team can stay motivated and aligned on generating more profit for your business.
If your organization has existing Sales Portal licenses, sales users can access the portal simply by turning the Sales Portal toggle ON in the user's profile. To learn more about the Sales Portal and how you can enable it for your organization, please reach out to your Account Manager.
Availability
Join us for a Sales Commission webinar dedicated to commission and reporting on Rose Rocket! You can sign up here.
This is available in each Rose Rocket instance at no additional cost or setup required. To enable the Sales Portal for your organization, please reach out to your Account Manager.
Available in Sandbox: Tuesday, October 6, 2020
Available in Production: Wednesday, October 14, 2020