For many full truck load carriers, it's important to be able to quote your customers based on the weight and distance of loads. In addition to pallet and CWT tariffs, you can now generate freight and fuel charges on a per-mile basis.
How it Works
Create a fuel table
Start by creating a fuel table to store and update the published EIA or FCA fuel price per gallon for each week.
Go to the Settings page. Scroll towards the bottom of the page where you'll see a new 'Published Fuel Prices' section.
Create a new table and record the dollar per gallon fuel rates and how long they are valid for. This table will be used to convert the dollar per gallon price to the dollar per mile price.
To get you started, we've added default tables for you to input published FCA and EIA rates, but other fuel tables can be added for more granular costs. Fuel tables can be added, removed, or edited at any time.
Here's what it looks like:
Set up your fuel per mile chart
Once your fuel table is saved, it's time to set up your fuel per mile tariff. On the Tariffs module, open the Fuel page and create a new Per Mile fuel type.
Once your fuel type is saved, add in the high and low fuel ranges and the corresponding per mile price.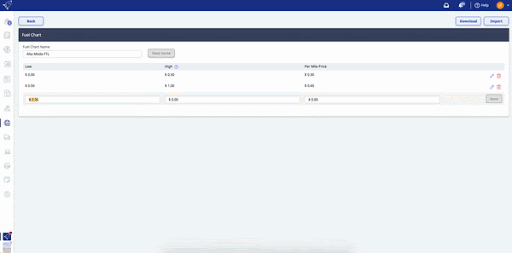 To make this process easier, fuel charts can also be imported via CSV file. Simply download the template and upload the details back into Rose Rocket. You can choose to override your current fuel table or add to the existing list.
Importing fuel charts via CSV: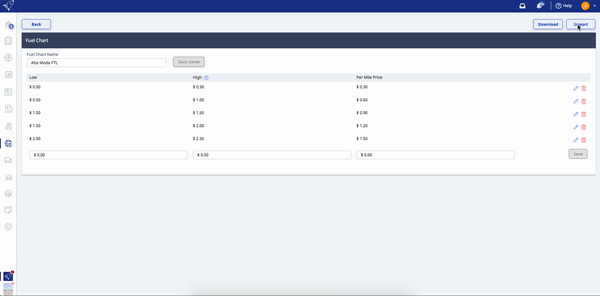 Create your per mile tariff
Once you have your fuel chart saved, go to the Tariffs list and create a new per mile tariff.
In your new tariff, you can set fuel per mile and freight per mile rates.
Fuel per mile:
Match your newly created fuel table and published pricing source to get the current per mile fuel rates.
Freight per mile:
Fill in your lane details and add in weight breaks to calculate your per mile freight prices based on weight ranges.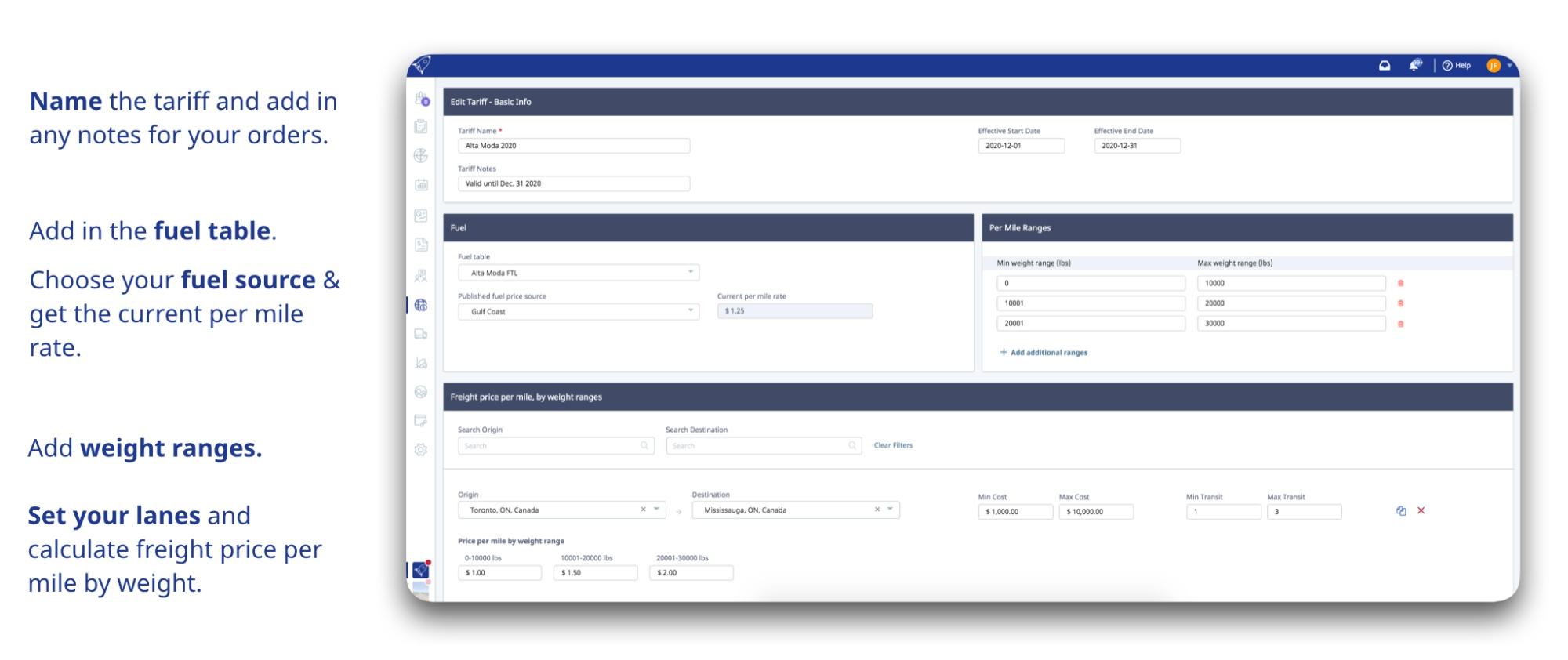 Add your new tariff to a customer
Associate your new tariff with a customer profile to have billable miles calculated on their orders.
On the Customers page, add the new tariff and manage your markups from the Services tab of your customer profile.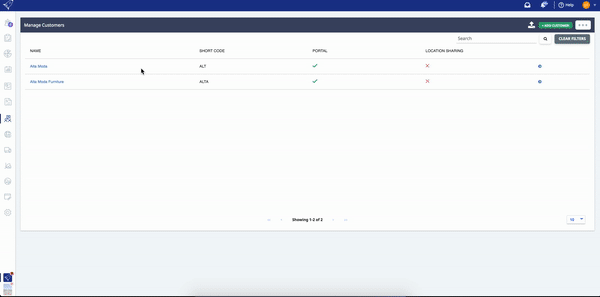 Calculate per mile tariffs on an order
Now, when an order is created for a customer with an associated per mile tariff, you will see a new Billable Miles section in the order details. This allows you to add in your trucking miles manually or use our Google integration to populate the distance for you.
Quotes are calculated using this formula: Billable miles x Freight rate + Billable miles x Fuel rate
Here's what it looks like when rating an order:
Availability:
This is available in each Rose Rocket instance with the Tariffs module at no additional cost.
Available in Sandbox: Tuesday, December 1, 2020
Available in Production: Tuesday, December 8, 2020