Your data is valuable. Your data can help you identify patterns, trends, and insights that drive decision-making.
But finding, extracting and analyzing your data is time consuming and expensive.
The new Rose Rocket Analytics Dashboard takes real-time data from your TMS, and translate them into intelligent visualizations. It is built to give you a complete picture of the current state of your business, while offering a layer of customization to help you get the most out of your data.
With Rose Rocket's Analytics Dashboard, you can monitor and run your entire business – all from one place.
Here are the Key Features:
1. Role-Specific Dashboards
Not every role needs the same type of information, which is why we have two available dashboards templates to start.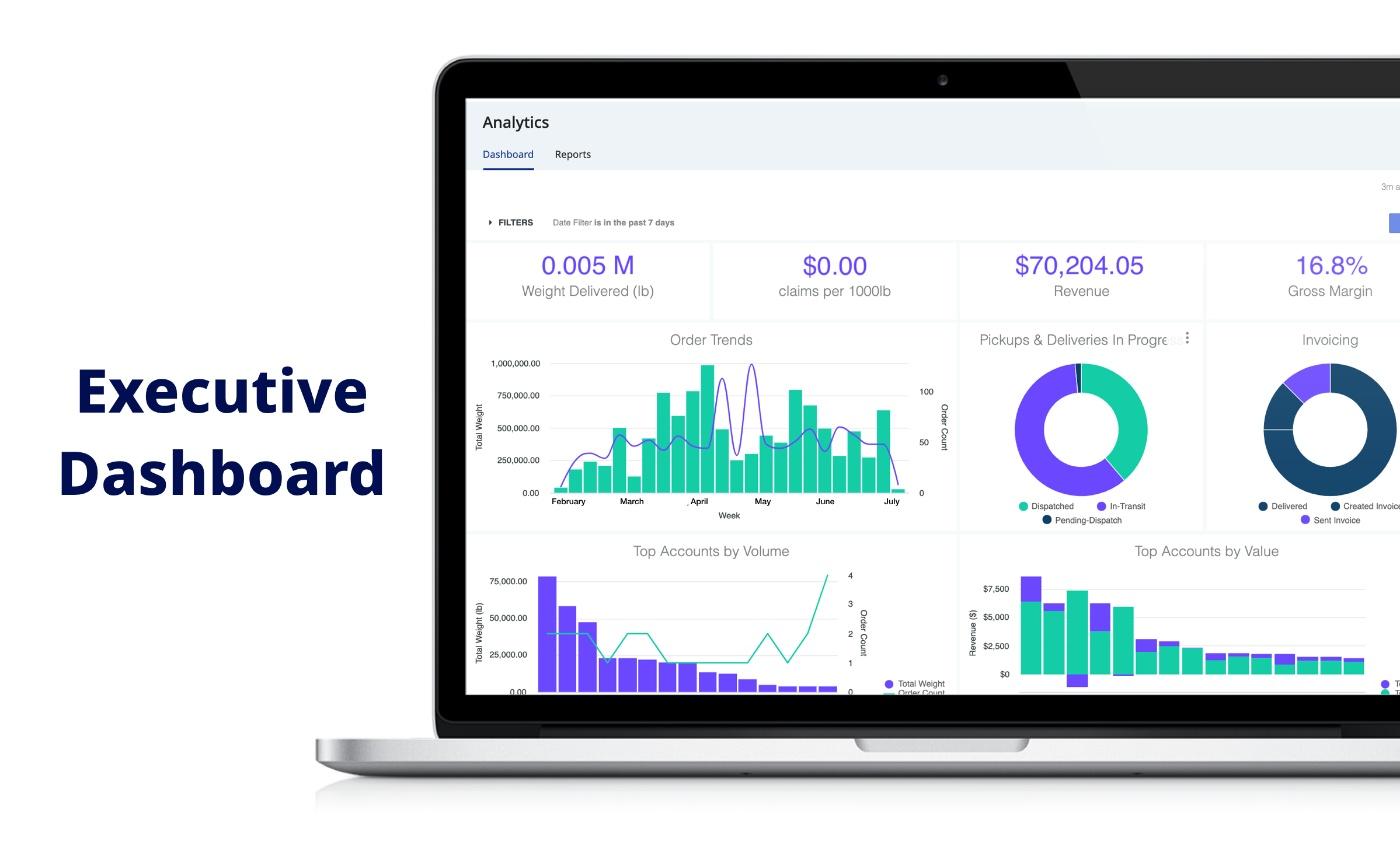 Executive Dashboard: This dashboard is created for the Admin and Manager roles, intended to show information that can be used to strategically manage the business. Built to give you an overview of your entire business, it monitors things like:
Total Revenue
Total Gross Profit
Percentage of Margin Profit
Number of orders
Lane by Lane Overview
Orders Week over Week
State of Invoices
State of Users
Monthly Order Count
Margin Over Time
At-Risk Customers
Top Accounts
Orders by Destination Cities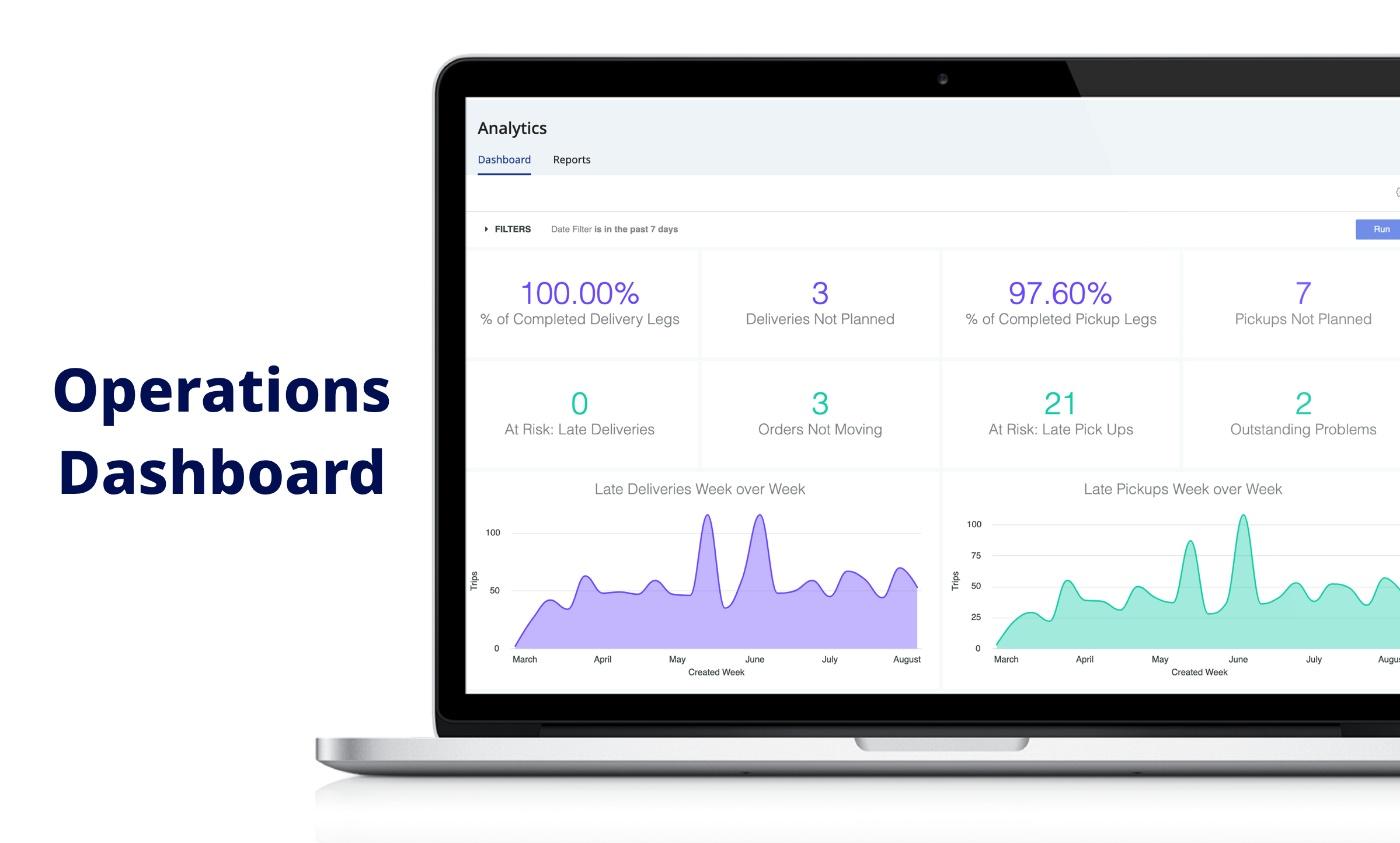 Operations-Centric: This dashboard is created for the Operations roles, showing the day-to-day data that can be used to optimize the health of the business. Built to keep a pulse on all things operations, it monitors things like:
Outstanding Pickups
Outstanding Deliveries
Revenue per LB
Revenue per Mile
At-Risk Orders: Pickups or deliveries at risk of missing their windows or appointments
At-Risk Loads: Manifests that are not moving on time
Total Volume of Pickups (By city or zone)
Hot Orders: Any shipments that are marked as "Hot" will be monitored
Total Orders Entered by User
2. Interactive Data Visualizations:
Interact with your data right from the dashboard. While the dashboard gives you a birds-eye-view of your business, you can click on any of the charts and graphs within your dashboard to deep dive into the data.
Need to drill down even more? Download a CSV of the data right on the spot with just one click.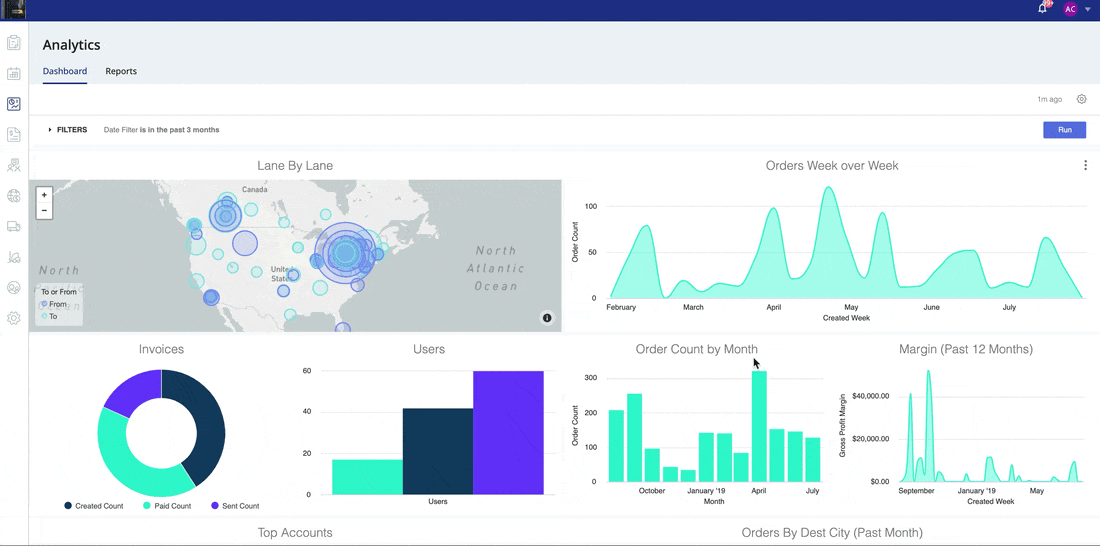 3. Customizable Charts & Dashboard:
One of the reasons why we built Rose Rocket with a Platform Architecture, was to allow for customizations that work for your business. Our dashboards are no different.
They start as the two templates, but you can quickly and easily customize any chart or graph to showcase the data you need.
For example, on the Executive Dashboard, you may want to monitor for Net Profit rather than Gross profit, or view your Orders by Origin City rather than Orders by Destination City. On the Operations Dashboard, you may want to monitor your Trailer and Vehicle usage next to your Pickups and Deliveries for the day. All of this is designed to be customizable to fit your needs.
To customize any chart or dashboard, all you have to do is reach out to your Customer Success Manager, and they will be able to easily make these changes on your behalf.
How to get it:
All Advanced Business Intelligence features can be added on to an existing Rose Rocket plan. Please reach out to subscriptions@roserocket.com for more information.
If you do not currently have a Rose Rocket plan, please book a demo to learn more.